About Us


Scooters and Mobility Kingsgrove has been in Kingsgrove since the year 2000, helping the local community and customers in areas outside Sydney. We provide transport for the elderly to and from our Kingsgrove Store if they cannot find any alternative transport.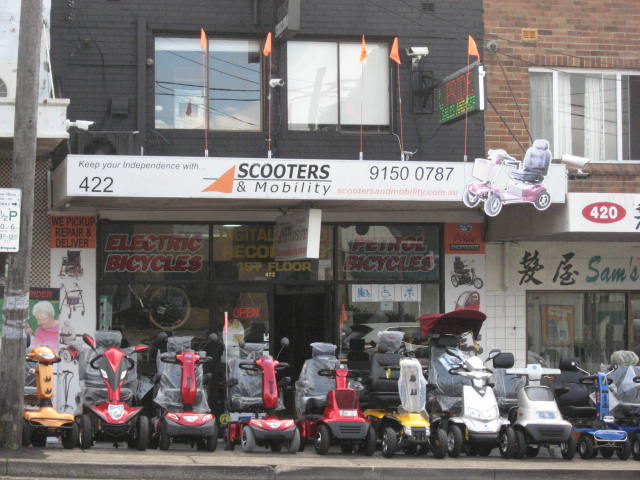 Our current store location is 422 Stoney Creek Rd Kingsgrove, Directly opposite the Caltex/Ampol petrol station.
There is Parking available along the front row of shops, and there is also a small parking lot in the rear lane.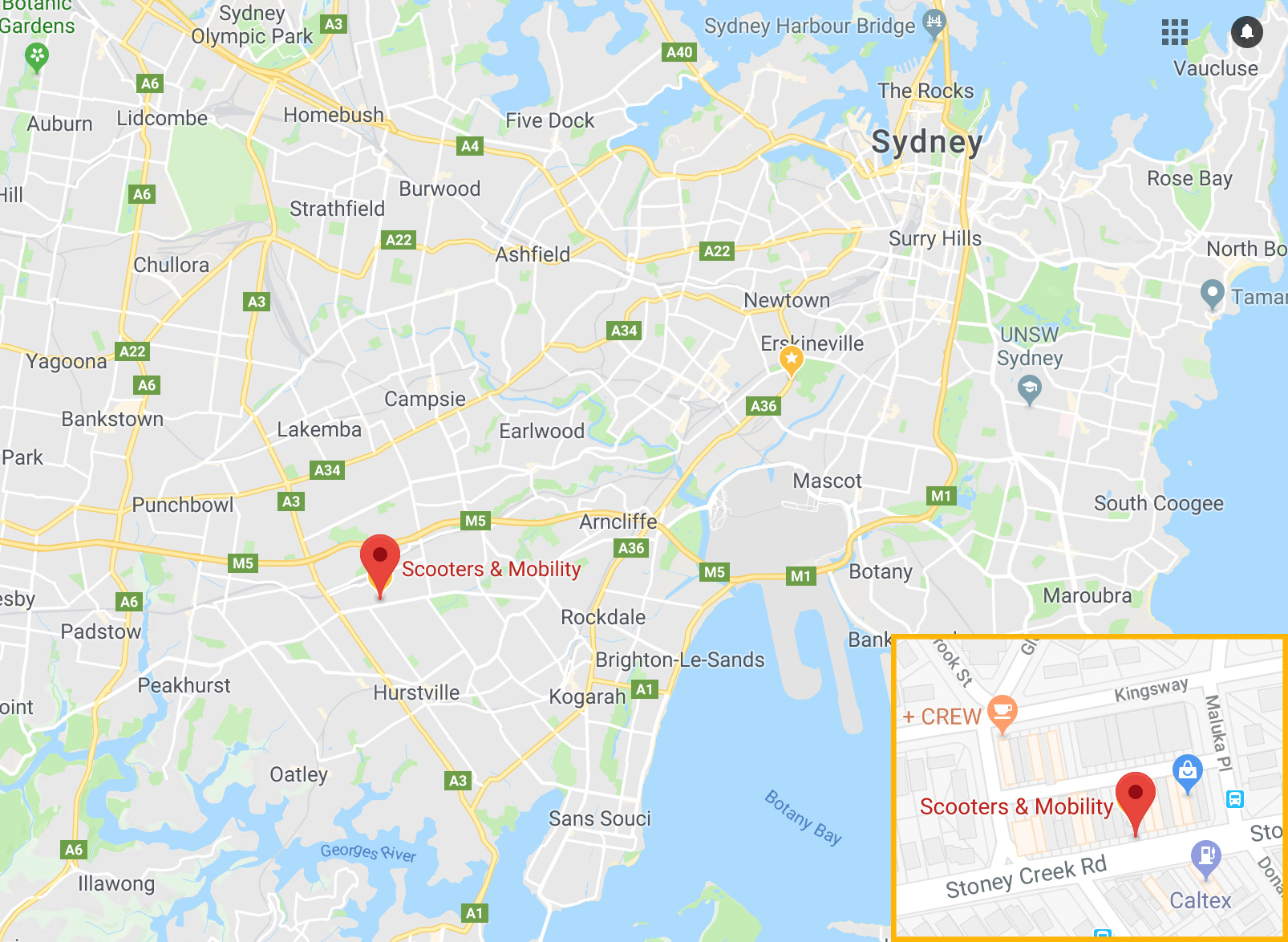 Phone: (02) 91500787
Email: Please select Contact Us on the menu at the top of the page and submit an Email Enquiry Form
Opening Hours:
Monday: 8.30am - 5pm
Tuesday: 8.30am - 5pm
Wednesday: 8.30am - 5pm
Thursday: 8.30am - 5pm
Friday: 8.30am - 5pm
Saturday: 9am to 1pm
Sunday: Closed
Stocking all types of scooters including Shoprider, Pride, Afikim, Merit, Trek and repair tube and tyre problems on wheelchairs, bicycles and scooters.
We also offer Bicycle Modifications, Repairs and Upgrades such as conversions to electric motor and other features. Please speak to our onsite technicians.
Mission Statement:
"To provide the widest range of high quality mobility products on the Australian Eastern seaboard"
Scooters & Mobility aim to provide a better way of life for our customers by providing the highest quality range of mobility equipment, which you will be able to trial either at our extensive showrooms or at your house. We are well represented with over 20 stores positioned across the whole of the eastern seaboard of Australia and with many new stores being launched, you will be sure to find a representative of Scooters & Mobility near you.
We pride ourselves on our after-sales service, as we are all well trained in the fields of mobility equipment repairs and maintenance. It is important to us that you not only have high-quality mobility equipment but that it will be running as smoothly and as safely as possible whilst it is in your use.
By stocking the leading brands such as Pride, Elite, Invacare, Shoprider and Bruno to name but a few, we will be guaranteed to be able to assist you with a long-lasting aid to suit your lifestyle. These brands are all TGA (Therapeutic Goods Association) tested, which means that all of their items have met the strict standard as required by the TGA and the aligned worldwide bodies such as the FDA. There are many brands available today that are simply not up to this standard and as such, are of inferior quality and may be unfit for your use. The leading brands stocked by Scooters & Mobility are your guarantee of a quality item that will be of great benefit to you not only for today, but for many tomorrows as well.
At Scooters & Mobility we don't just have customers we have friends for life.
Call us today !!